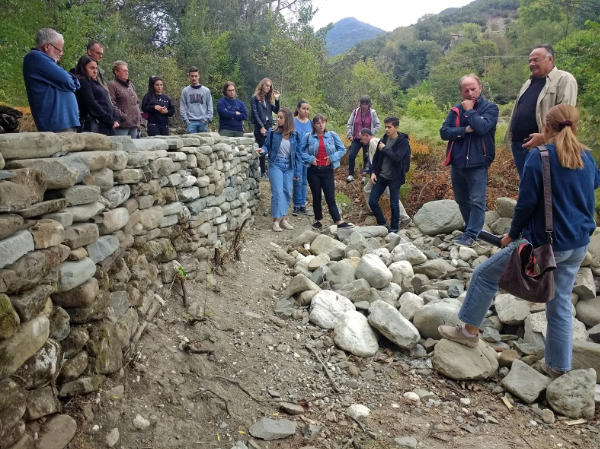 The first output of the project is the collection of examples of good practice from each of the partner areas. From these examples an indication can be drawn of what methods work best.
Engagement with the community is done either by individual contact, at public meetings or more often using all the modern tools of communication, websites, newsletters, flyers, social media, press. Workshops are set up, studies presented, videos shown, photo exhibitions prepared, publications produced.
The engagement may be based on prior studies and inventories created. Special events are organized for example the project "Bridges history and tradition", by the Greek partner. Introductory weekends to learn about local traditions and skills are organized in Corsica. Competitions can be organized to find the best local group, such as the drystone walling competitions in Scotland. Also in Scotland is the use of a recently discovered photographic collection (700 photos) dating back more than a century were presented at a special event involving recognition of locations depicted, the people, and the practices recorded there.

The Association Alpes de Lumière relies on a broad local partnership to engage with the local population, especially among the most disadvantaged regarding the importance of traditional cooking: The presence in the town of Forcalquier, the the Green village, with its experiences of allotments and shared gardens, with a community grocery store led to the project Parlotte Popote. The project aims to produce 6 to 8 workshops per year, whose goal is to show people in economic difficulties that it is possible to cook balanced and inexpensive dishes, with local produce using traditional provencal recipes and ingredients.